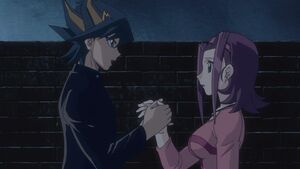 This page covers the shipping of Yusei Fudo and Aki Izayoi from Yu-Gi-Oh!. Aki Izayoi is known as Akiza Izinski in the dub. This is known as FaithShipping in the fandom.
In episode 75 when Yusei is teaching Aki balance by having her skate she falls and he catches her causing her to blush.
Links and Galleries
Edit
Screen Caps
Ad blocker interference detected!
Wikia is a free-to-use site that makes money from advertising. We have a modified experience for viewers using ad blockers

Wikia is not accessible if you've made further modifications. Remove the custom ad blocker rule(s) and the page will load as expected.