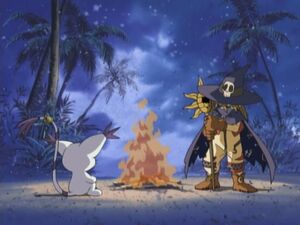 This page covers the shipping of Tailmon and Wizarmon. They are known as Gatomon and Wizardmon respectively in the dub.
-In a flashback in Adventure episode 34 Wizarmon explained that he was always alone before he met Tailmon. He was about to starve before he met Tailmon who offered him some water.
-In Adventure episode 37 Wizarmon sacrifices himself to protect Tailmon from an attack from Vamdemon (Myotismon). Tailmon is shaken at seeing him fall and evolves to Angewomon for the first time to avenge his death.
Links and Galleries
Edit
Screen Caps
Ad blocker interference detected!
Wikia is a free-to-use site that makes money from advertising. We have a modified experience for viewers using ad blockers

Wikia is not accessible if you've made further modifications. Remove the custom ad blocker rule(s) and the page will load as expected.