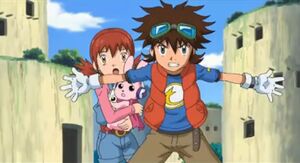 This page covers the shipping of Taiki Kudou and Akari Hinomoto from Digimon. They are known as Mikey Kudo and Angie Hinomoto respectively in the dub. This shipping is known as Akaki in the fandom.
-Akari is seen looking after Taiki a lot when he overexerts himself.
-Akari becomes upset when she sees Bastemon (Beastmon) around Taiki.
Links and Galleries
Edit
Screen Caps