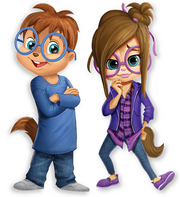 This page details the shipping of Simon of the Chipmunks and Jeanette of the Chipettes.
I Love the Chipmunks Valentine
The Gang's All Here
My Fair Chipette
Sisters
A Little Worm in the Big Apple
The Chipmunks Go to Washington
Mind Over Matterhorn
Help Wanted: Mommy
Sweet Smell of Success
Big Dreams
Alvie's Angels
Sploosh
The Chipmunk Adventure
Alvin and the Chipmunks Meet the Wolfman
Alvin and the Chipmunks intro
Hardee's Commerical
Ad blocker interference detected!
Wikia is a free-to-use site that makes money from advertising. We have a modified experience for viewers using ad blockers

Wikia is not accessible if you've made further modifications. Remove the custom ad blocker rule(s) and the page will load as expected.