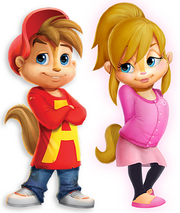 This page details the shipping of Alvin of the Chipmunks and Brittany of the Chipettes.
The Chipettes
I Love The Chipmunks Valentine
Sisters
A Little Worm in the Big Apple
Mind Over Matterhorn
Cinderella? Cinderella!
Experiment in Error
Hooping It Up
Big Dreams
Island Fever
Dreamlighting
The Brunch Club
The Legend of Sleeping Brittany
Robomunk
The Chipmunk Adventure
Alvin and the Chipmunks Meet the Wolfman
Stand By Your Man
I Don't Want To Be Alone For Christmas (Unless I'm Alone With You)
Get Munk'd
Ad blocker interference detected!
Wikia is a free-to-use site that makes money from advertising. We have a modified experience for viewers using ad blockers

Wikia is not accessible if you've made further modifications. Remove the custom ad blocker rule(s) and the page will load as expected.